Problems with .package files?
ALL WWW.SKYSIMS.NET .PACKAGES HAVE BEEN TESTED AND CAUSED NO PROBLEM
But in case you are experiencing problems in your game play with other .packages here you have 2 posible solutions.
1. Checking corrupted .packages with a program:
- The program is called Sims 3 Dashboard tool and you can download it here at mts .
What does this tool do?

It's basically designed to let people easily clear the cache and identify problem content.

This tool has 4 main tasks:

- To easily show you which games you have, whether or not they have a full framework, and to browse to that games root folder.
- To show you the contents of the Sims 3 cache files, and clear them
- To show you all of your custom content in .package format, and display any "corrupted" files, or Sims 2 content, or stuff that just plain wont work.
- To fix any problems with corrupted files, empty files, generally broken files, and allow you to fix conflicts yourself

How do I use it?

Download and unzip the file. Run the Sims3Dashboard.exe file within.






You need .NET Framework 2.0 to run this tool. (It wont run on Mono unless you use X11)

:

: You don't need to download or install .NET 2.0 if you have Windows Vista or Windows 7 - it's included by default in those operating systems.
More info. and support at mts topic mentioned above.
2. If you are experiencing problems with .package files since you patched your game or install World Adventures, here you have the solution.
Many people have been experiencing problems with .package files since they patched their games or install World Adventures. The problem seems to come from corrupted sims 3 files or either from sims 2 files mistakealy placed in your sims 3 folder. To find out if you have any corrupted files that are causing problems to your game, like lag, (none skysims file is corrupted) here is the solution found in modthesims.
How To: Use Process Monitor to determine if your TS3 is "reloading" "bad" files all the time.

Step 1. Download and extract this file, to your desktop. http://download.sysinternals.com/Fi...cessMonitor.zip

Step 2. In the directory you extracted the above zip to, find and run the Procmon.exe file.

Step 3. Agree to the license and (optionally) click through the UAC prompt (if using Vista/Windows 7)

Step 4. Press Ctrl-L or click the Filter icon in the toolbar, or click Filter -> Filter

Step 5. Change the dialog to look like this: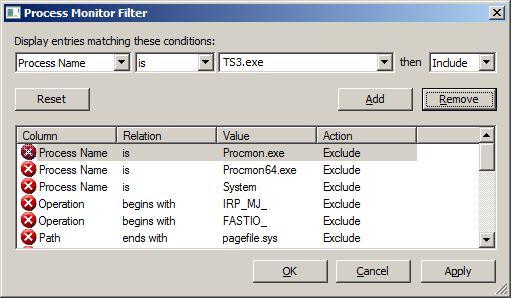 (You'll have to type in the TS3.exe bit).

If you use World Adventures you'll need to put in TS3EP01.exe instead.

Step 6. Click Add, then OK.

Step 7. You should see a Process Monitor blank screen.

Step 8. Launch your game and go to a Lot. Play for a couple minutes at least.

Step 9. Close the game.

Step 10. Important: Scroll to the END of the list, then start scrolling up from there. You could see a lot of entries that repit more than 10 times, as in this image:
http://img687.imageshack.us/img687/6829/13579924.png

Step 11: Locate these files and move them (cut, don't copy) to the Desktop or directly delete.
Your game will run well from then on.
For further information go to modthesims wiki entry or modthesims post